Okay, so in my Petals post, I said when I went out for my friend's 18th bday, we went to the mall & I scored a major shopping spree... well, I SOOO did. With about roughly fifteen to twenty dollars, I got (or was given) all these pieces of clothing & accessories :)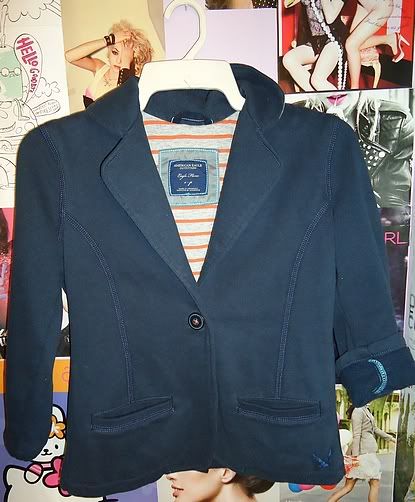 Starting with this lovely American Eagle blazer, bought at the indoor garage sale at the mall, for ONE DOLLAR. Had the tags on and all. The inside is fleece and has these adorable gray and orange stripe interior. It's a size small and fits as such, but it's sooo going to be a staple piece in my uniform wardrobe. In fact, I wore it today (pictures of the outfit tomorrow).
A LOT more pictures and slight stories under the cut: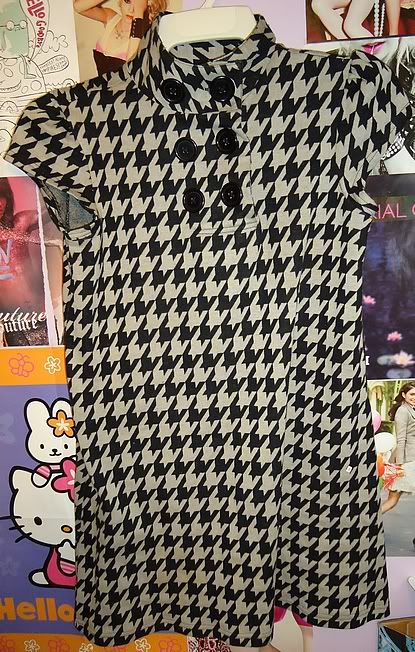 I also got this wonderful brown houndstooth somewhat-turtlenecked dress. I love it, which is really weird because I hate collars and the colour brown basically. However, this just called out to me. Yeah, it's a size large (a size larger than I am), I just couldn't help it. It looks really good when it's belted. Definitely a dress to use for special occasions or anything business-y/professional looking reasons. And for whaaaaat? Yep, one DOLLAH.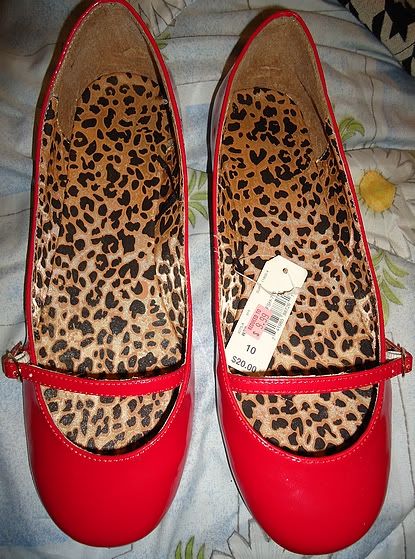 Finally, the third and last item I purchased at the garage sale in the mall, a pair of American Eagle (brand new with the tags as seen) red flats. Surprisingly, these were a size 10 (my shoe size) and typically it's hard to find my shoe size or there's only 11s. I snatched these as soon as possible. Not only is it a pop of colour (and brilliant print), I can wear them in school, so MORE amazingness to my uniform wardrobe. Hoooooow much? One dollah-what-what?!
At Old Navy, I purchased this great tunic-dress on clearance... only to find out it's TOTALLY the wrong size. It's an XL. I thought it was just a large, which would make it a pretty floaty tunic, but instead it's a bit of a flowy striped potato sack. Either way, I could nip it with a belt and a jacket to cover any bumps or just use it as a bathing suit slip. I got this for about two dollars? It was the last of its type, so yeah haha.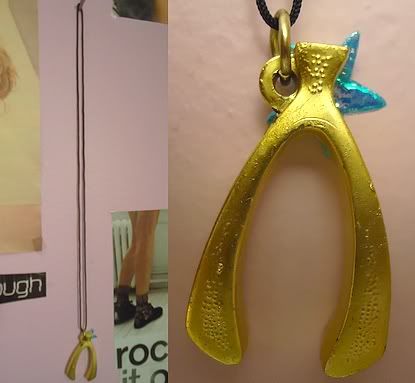 Then my friend's little sister gave me this cool, 25 cent necklace of a wishbone. I think it's absolutely adorable. Cost for ME? $0.
Moving on, then I went to Claire's. Claire's is my number place for accessories because I LIVE for accessories. That's why I make so many necklaces and own so many (I have a small drawer just for necklaces and it's full), it's usually my style niche. I feel uber naked if I don't have something hanging on my neck.
Obviously, this piece isn't a necklace, it's a braid. A faux-hair braid headband. I saw this and immediately thought of the prarie/country girl look that's been all the rage (seriously, my Claire's was STOCK UP on cowboy hats, florals, pastels, and plaid), a sweet milk maid braid around the head would look spectacular :) It's prone to frizzies though :( Style has its downsides sometimes. On the tag, it said it was four dollars, turned out to be $1.08. God, I love shopping.
Now this little gem, it was like, love at first sight. I love hearts, I love black, and zippers are mainstream edge-chic. The combination just blows my mind (and my friends are sooo jealous of it :3 ). I had to get it. Clearance at 2 bucks.
I got this from Claire's, but it's a regular earring. One earring. And it's not a gauge. Why get it? It's adorable, plus the loop is wide enough to string a string or chain through to wear as a necklace. It was like a buck due to the lost partner of it, but still very nice :)
Next store was Spencer's, which in my mall is RIGHT next to the Claire's. It's really weird to have such a dark and pervy store next to the girly and teeny-bop store. Anyway, I found this magnificant necklace with a line from Alice in Wonderland. Great piece to add to a simple outfit that needs more. Six dollars was spent on it.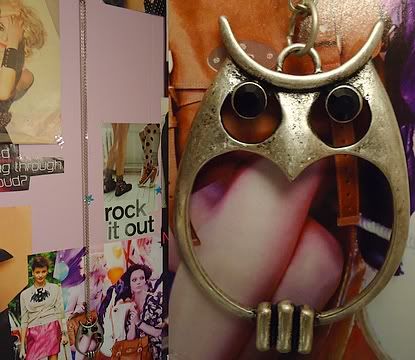 Finally, I purchased this at Deb for about three dollars. I love this necklace. It's first, an owl, who doesn't love owls right? (More prarie themes). And two, it's so simplistic, it can blend in with anything you're wearing. Stripes? Striped-belly owl. Florals? Guess your owl ate a few. Bold solid colour? Look who's trying to be a peacock. Adore this.
Then I bought two "2 for 1" belt packages. Each pack had one green skinny, studded belt and one skinny black plain diamond-buckle belt. I bought two because I realized how I could totally pull a
Syl&Sam belt harness
because I'm too broke to afford a
Zana Bayne harness
. Sad, but at least I can have my harness in a bright lime colour :) Price: Two dollars per pack.
And that was everything I bought during Saturday... and well, an issue of Seventeen and Allure magazine :3
Thanks for looking and I hope you score some rad shopping sales too :)