I got these things like, two weeks ago, but I never got the chance to update about it. So K-mart was having this wicked sale where everything was almost basically four dollars, including jeans. *dies* Of course, I must be apart of this shopping phenomena, HOWEVER, my mom has to pay. According to her, I bought SOOO much stuff
last time
. (Note: I spent MY money on those things, not her.) So mom proceeded to buy herself a new wardrobe, while I was able to purchase two things.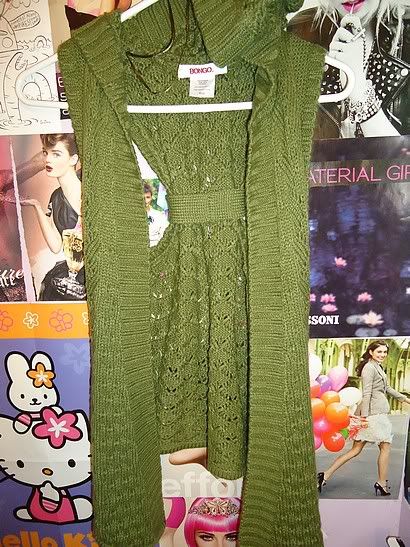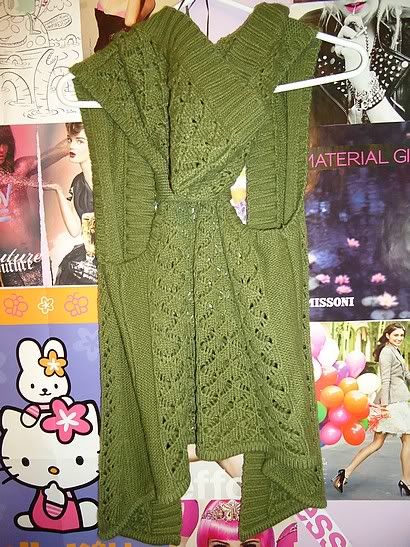 I love this vest; it's actually more forest green, but the flash made it a bit brighter. Anyway, it's just so soft, and plush, and I love knitted things :) My mom ALSO loved it, so she got one in her size >> Me and my mom have matching vests. Continuing...
And I bought a pair of jeggings. They were for four so I was like "OMG WOOT" because I've been looking for pairs but they're always expensive. Unfortunately, the only size they had left was a medium... A. This was the last pair. Crazy. Anyway, it fits up top, fits the thighs, but then it's waaaay too long legwise. I has short legs. Skinny-ish legs, but they're short. All my pants generally have some form of bagginess in them whether it's length or width. However, it's so better than leggings.
Then my mom tried to get a pair for herself. I warned her that they aren't the most forgiving. And it was true, apparently fits at the top and then gets tight as hell around her thighs. At least I have my own pair. Such great alternatives to jeans :)
Those were my new items for 8 dollars total. Thanks for looking :)