I wore this to school today. Since I straightened my hair yesterday, I got lazy to wash it to get back to my usual curls, so when I went to sleep, I got a bit more texture in my hair. The texture inspired me to go use my new feather earring kinda as a faux feather hair extension. I based the whole outfit around the feather. It's not the most unique outfit, but I like it :)
More pictures and a smidge more text under the cut:
Originally, the outfit included nude tights, but they got ripped to shreds today, so I ended up taking them off for these pictures. I've been a bit daring (and lazy) with the uniform lately, so instead of a polo, I just wore my scoop neck tank top. My hair and the thickness of the sweater covered me up though. Speaking of the sweater, twas soooo warm. It helped when I had to sit in cold classrooms.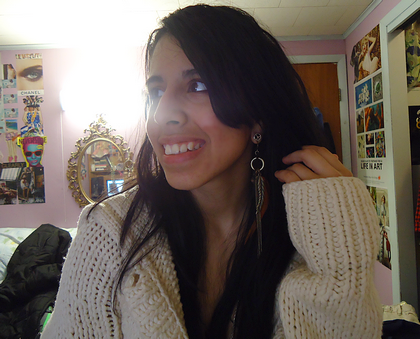 Doesn't the earring look fantastic?! Makes me want to be a Native American for real. However, I guess I can live with just having the hair colour haha.
And I ended up wearing my own necklace. I couldn't leave it behind. I just couldn't.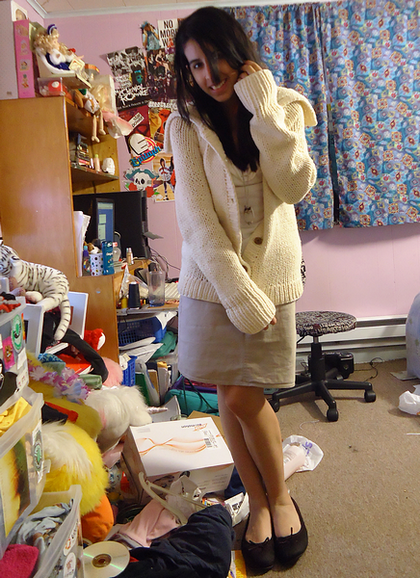 And oh my lord, there was a bit of drama this morning. It included the captains of the step team and one or two members. Yelling and threats and ton's of talking about it. I still have no idea what happened. All I know is a message, something about a captain, and then a lot of misinterpretation. At least it's over.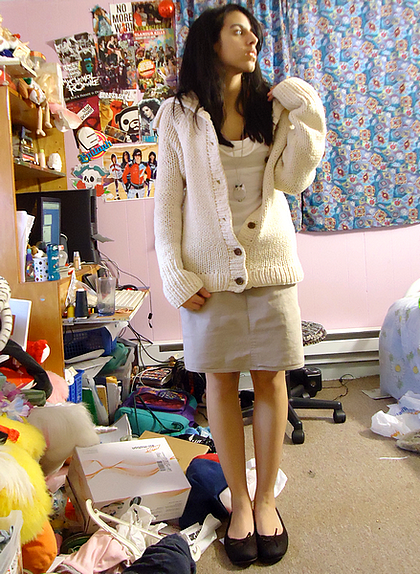 I got a lot of compliments about my earring, which is rad. God, it just makes me want to own more feathered accessories haha. I also did feel a bit "spring-y", even though it snowed yesterday and it's still crap out now. Seriously, I WAS going to take cool photos outside in my yard, it was the perfect lighting, BUT the snow basically melted under my feet and saturated the shoes. (You can't tell at all, but I have a pair of socks under the feet so I didn't have to stand in wet shoes for the next ten minutes of picture taking.) Suuuucks.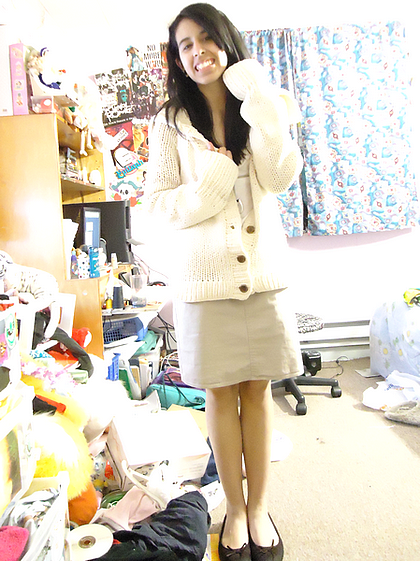 Dang, it's like I'm an angel. OH random fact, I'm starting to read "Paper Towns" tonight. I've been meaning to read it forever, but now I have the chance haha. Wish me luck :)
Earring: Claire's
Necklace: Deb
Shirt: Miley Cyrus/Max Azria, Walmart
Jacket: American Eagle
Skirt: Tommy Jeans, gift
Shoes: Route 66, K-Mart
Thanks for looking :)