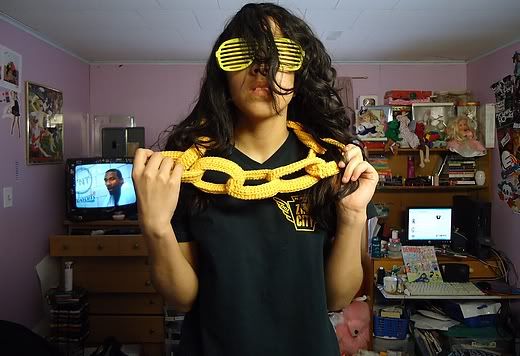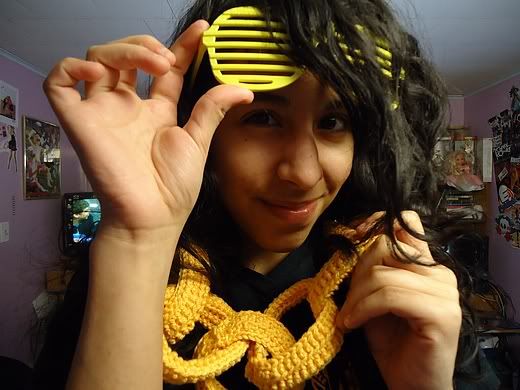 Last Sunday, I was uber inspired by
Yokoo's
knitted chain scarves. Seriously, they're the most brilliant things I've ever seen. I wanted my own, but I can't knit. However, I can crochet, not very well, but I can crochet haha. Since I wanted to make a chain, I had to track down a pattern to get an idea of how to do it. I found two Lion Brand patterns (
here
and
here
) that use a chain, but they weren't as round as I wanted them to be to look like REAL chains.
I followed part of the tutorial, but I blew them up so I could try to get a circular form (width wise). I also decided to use like a gold yarn colour. Here are a few things I never knew how to do until I did this scarf-necklace-thing:
1.) I didn't know how to seam together edges width wise. I did it very well apparently though.
2.) I didn't know how to seam together edges length wise. That I did not do well.
The length wise edges are fugly, for real. So I sewed the edges to the next chain so they can never move or roll over to be exposed. The ugly stays inside haha. Also I didn't notice how ungold my gold yarn looked. In fact, it's just yellow. Cheese yellow. So I have now dubbed myself "the Dairy Pimp" because it's the only way I can get away with wearing a yellow chain.
I advise not to use my pattern I'm about to put down solely due to the fact that I only use 3 stitches this whole time: slip stitch, chain stitch, & single stitch. Double stitch confuses me. ANYWAY, this is what I did:
(NOTE, my chain is a bit flat, not as round as I wanted, sooooo I STILL don't advise using this pattern :) )
1.) Slip stitch, chain 38 - 40.
2.) Turn, single stitch 38- 40.
3.) Repeat Step 2, 8 to 9 times. (Told you that's the only stitch I can do so far).
4.) Fold the width together & seam.
5.) Fold the length together & seam (to the best ability).
6.) Repeat Steps 1 to 4.
7.) Before doing step 5, put on end through your first chain.
8.) Do step 5. Now you should have two chains looped together.
9.) Repeat the process however times you want until you're chain is ALMOST long enough
10.) Your final chain, before doing step 5, each end has to go through TWO chains
11.) Do step 5, and now you have a full chain.
Optional if you have ugly Step 5 seams:
12.) Using thread that is matching, sew ugly seams into the adjacent chain securely.
13.) ENJOY!
Thanks for reading :)
EDIT: The smart thing thinking back to this project was if I sewed the width ends first before and THEN the length. I'm not that smart :( lol