Two weeks ago, my mom gave me a red tank top that she got that didn't fit her. It fit me, but I absolutely HATE shirts that go above my hips or hit my waist unless they're supposed to. It was probably supposed to hit at the hips, but I admittingly have a long torso. Being inspired by this
tutorial
of a fringe shirt, I decided to turn it into a fringe shirt. HOWEVER, due to the shortness of the shirt, I'd have to sew on extra material. So here's the story/half-hearted tutorial on how I turned this: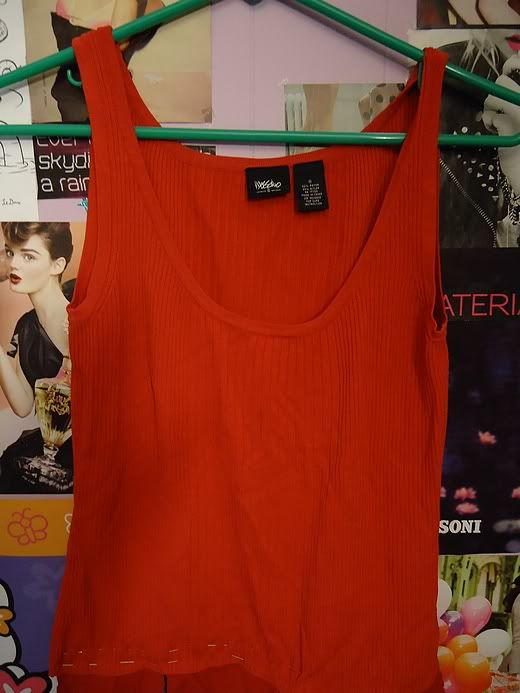 Into this:
Don't worry, it doesn't look as dumb here when on. It looks pretty cute on :)
More pictures and a story/tutorial under the cut:
Things you need:
+ A shirt that's too short
+ A shirt you don't want that matches the colour (mine's a SMIDGE darker)
+ Matching thread, needle, pins
+ A ruler or measuring tape
+ Scissors
+ Assorted beads and rings
1.) Measure the bottom seam of shirt. Kind of helps when you cut from the other shirt.
2.) Once you figure out the length, measure on the unwanted shirt & cut out your long pieces.
(Unfortunately for me, my unwanted shirt was too small width wise, so I had to cut them out in large squares.)
3.) Start pinning the material to the inside hem of the shirt, like so.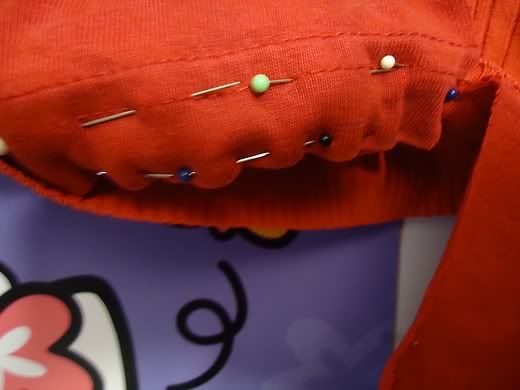 Inside of the pinning (flipped outside)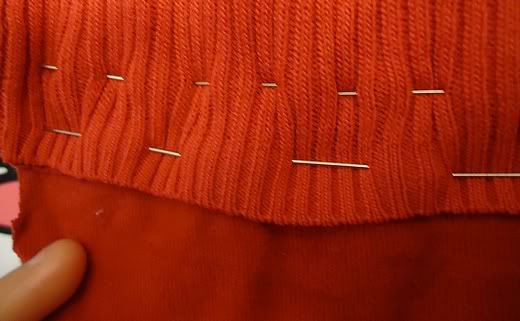 Outside of the pinning
Make sure it's pinned in far enough inside that you will have space to sew it twice: Once along the bottom & once along the top. It's better for it to be secure so if you have to wash it, it won't rip out, PLUS when you start pulling fringe, it needs to stay in place.
Once pinned, you should have a large front square of material popping out from underneath. Or if your shirt was too small, it'll look like this:
It looks uneven now, but it works out pretty well.
4.) SEW. Sew along the edge of the material and then to the top of the material. Remember, security is your best friend. Here's what my hem looked like: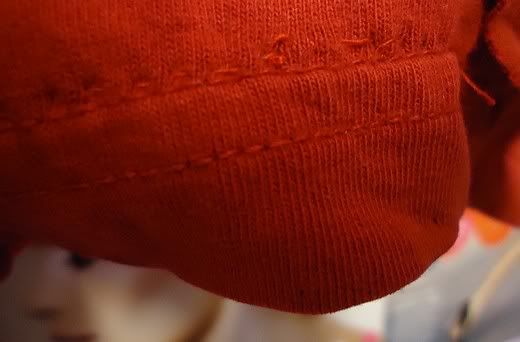 Remember! Bottom and top of that small material!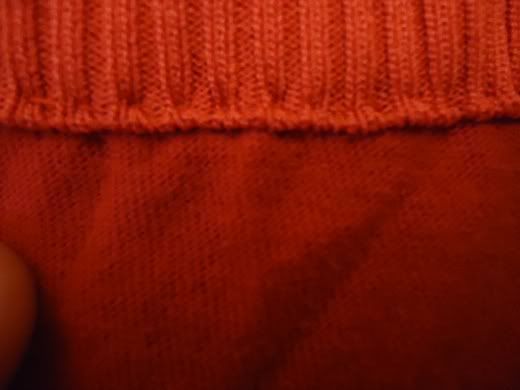 Very clean, generally hidden. The outside here looks nice, but the inside was a bit bad looking haha :)
5.) Now that our hem looks nice (or not in my case haha), start cutting your "fringe." I tried to stay about half an inch per strip. Just take into consideration that if you're adding beads or rings, the strips have to be small enough to fit the holes of the beads. Mine were STILL too big, so I used a threader to get the material through.
6.) Since we have a whole bunch of fringe, start pulling them enough to have them roll into a small tube basically. You have to pull hard enough for them to roll (which will also lengthen them), but not so hard that they'll rip on you (like I did). That's also why you have to consider the size of your cuts. If they're too skinny and you tug, they'll rip. If they're too thick, they're not going to roll up pretty.
7.) Our fringe strips actually look like fringe now. You may also notice that depending on how high to cut to the material, you have very tiny triangles along your hem. It's alright though. Now you can start adding beads and rings. This is all customizable & up to you. Me, I used orange beads, wooden beads, gold rings, & knots as my decorations. Just remember that no matter what you put on, you HAVE to knot underneath it to keep it from moving. Washing machines have the power to obliterate anything that isn't fastened well.
In this end, this is how my fringe looked: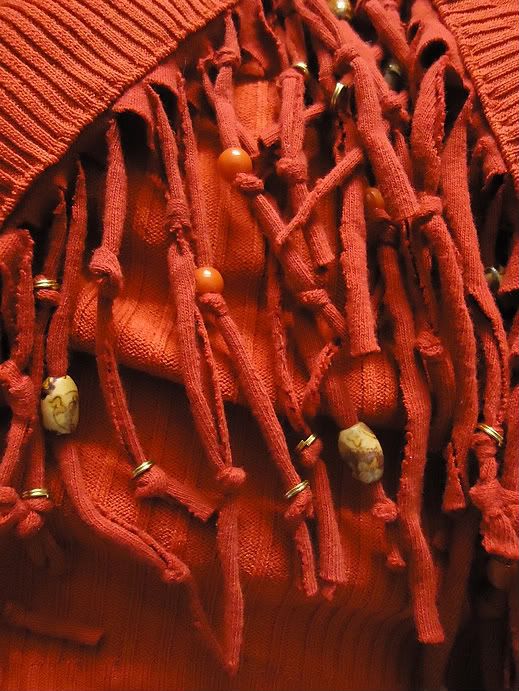 Now you're pretty much done... unless you're like me and think your shirt STILL looks boring. In this case...
Optional step 8: Cut out a strip of material from your unwanted shirt, grab the center of the top of the shirt & bottom of the shirt, pinch together, & tie that strip around to form a butterfly gather (cut the excess strip of course.)
NOW I'm done :) And it looks like this: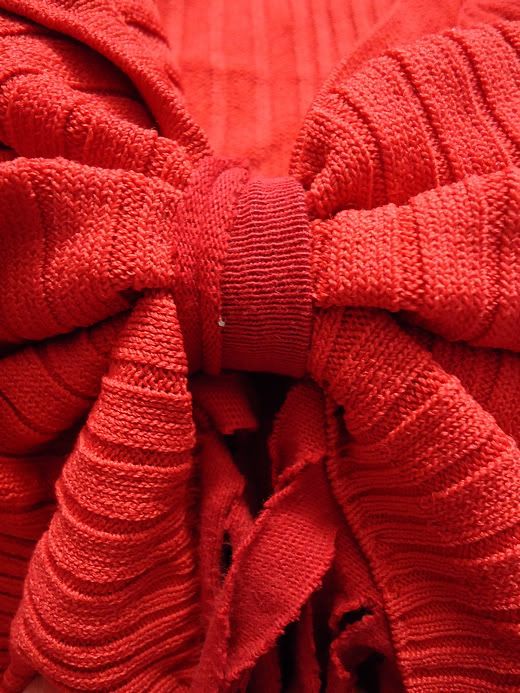 I know it looks like a sack or something, but it looks pretty on. See?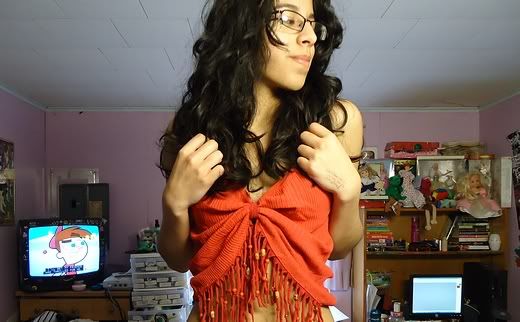 Look how cute it is! It's like a bow and the fringe just gently falls along the front :) However, until it's super hot outside, I dare not wear this just as it. It REALLY shows off my body and I'm not always too comfortable with that much skin. It looks great over a plain shirt though.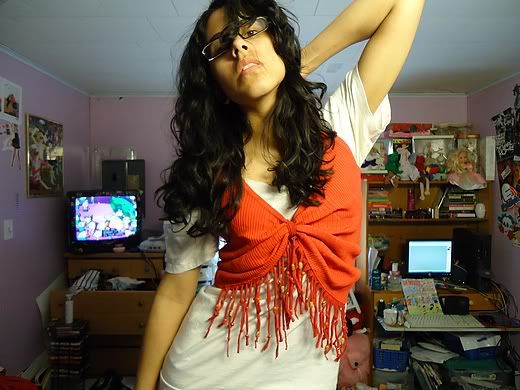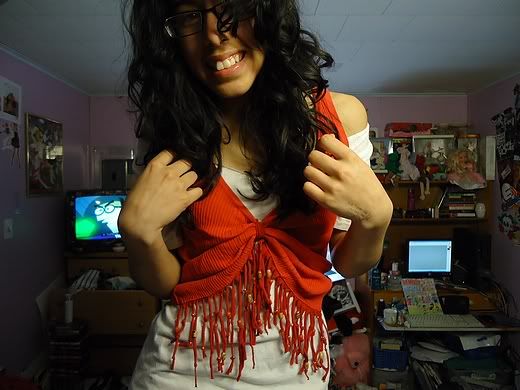 I think it looks great over an off the shoulder shirt :)
And that was the long adventure of turning a plain red tank top into a butterfly-gathered beaded fringe tank.
Thanks for looking and reading :)