Okay, so on May 10th, my boyfriend, my friend John, and I went to Philadelphia at the Electric Factory to see Deftones. Great band, great concert. We left my house around 5. We stood in a long line outside for quite a bit. I was wearing a red plaid shirt with a black vest, white tee, dark jeggings, and sneakers. It was really fun in the beginning.
Funeral Party opened (btw, so much better live than on album. See them in person and you can REALLY feel the power behind it. Their albums are so edited, the lead singer sounds like a sixteen year old than a twenty-something). People applauded, it was nice. Then Dillenger Escape Plan came out. Oh. God.
Here are a few facts about my concert experiences:
1.) I've never had a concert experience.
2.) This was my first concert.
3.) The closest thing I've been to a concert is Warped Tour where my worst concern was being stepped on by drunk people.
Now Deftones is a heavy band, you know? Not like UBER heavy, but will have a bit of an aggressive crowd. Dillenger Escape Plan is beyond heavy. They're mathcore. MATH. CORE. This meant fists flying & bodies smashing in a crowd (or for the little "hxc kidzzz", windmill kicks across the face) with music playing so loud, it's hard to understand that it's music. I've never experienced the pit. I lost my boyfriend and kept getting pushed. I was being shoved and I was on the outskirts. Then some dude got lifted up to crowd surf & his foot kicked MY GLASSES OFF! >< People around me are sumo wrestling next to me and I have to search the ground looking for my black glasses. Luckily, they were caught onto my foot. As soon as I got them, I ran to the back with my friend John while my boyfriend stayed in the pit.
After that was over, there was about ten, fifteen minutes of waiting for the preparation for Deftones. All of a sudden, a huge crowd of frat boys (polos with popped collars, backwards baseball caps, cargo pants, and Nikes, muscled and yelling "YO -insert generic white boy name-!" across the venue) and pairs of lesbians/bi-sexuals females (it was always a pair with one blonde, one brunette. The brunette has a backcombed rat nest with a t-shirt that's too tight and dark skinny jeans. The blonde has way too much makeup, hair cemented in place with her tits hanging out her tank top). They cut in front of us and we were getting pushed back and then pushed forward by the people in back of us. They hadn't even come out yet XP
THEN they come out. The crowd shoves us forward with a big intensity. The pit opens again and pushes the people by it even more back. We were being squeezed in ten different directions. I was like begging my boyfriend to head back. Luckily, a big large man was pushing through us. Obviously EVERYONE had to move for this man, so we followed the large path behind him. We were now standing in the back, where guys were bobbing their heads, but not violently and they stayed in one place. The venue is really great too because they play the video of the band on the walls so even though we were far, on the screens, it was close up. I really recommend Electric Factory if you don't dig being up close by the stage where hell occurs. I really loved their
performance
of Cherry Waves.
The last song they did, the lead singer from DEP performed with Deftones. It was
pretty good
. OMG and Deftones did a cover of "Firework", it was
hilariously rad
.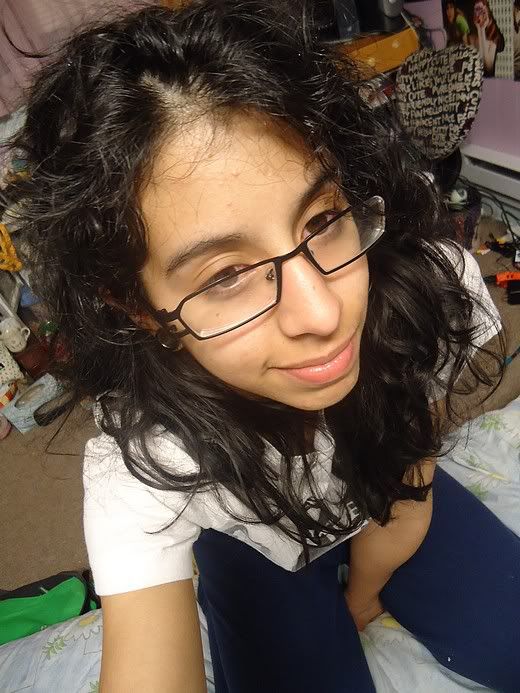 This is me afterward. It was 2 in the morning. I was sooo dead.
I had my hair braided into a pseudo-hairband to keep my bangs out my face, but they rolled in as soon as I got the first pit shove XD
My boyfriend bought me the tee at their merch stand.
And this was my 1:30am gas station recharge: NutriGrain for the fiber & Canada Dry for the perk up. Needless to say, I died the moment my body hit the sheets.
Overall, it was pretty fun :)