I'm wore this today. I wasn't doing much today, but out of the blue, my boyfriend wanted to come over. So I pretty much spent the whole day with him. Today was all about casualness since it was soooo hot today. The breezy materials made me feel light while the accessories added the weight. I also fishtailed my hair. It was sooo cute at first, but my layers started unraveling. It looked funky, but after these photos, it totally collapsed.
I think the thing I most like about the outfit is definitely the accessories. Even though silver makes tan skin look ashy, I adore how quick it is to make things fun. My wrist was full of all of my silver bracelets. I'm even wearing a ring! I hardly ever wear rings. My mom makes/sells jewelry and she ordered a bunch of skull rings. I took a tri-skull ring and even though it's tiny, it's still too big for my finger. Just my luck, eh?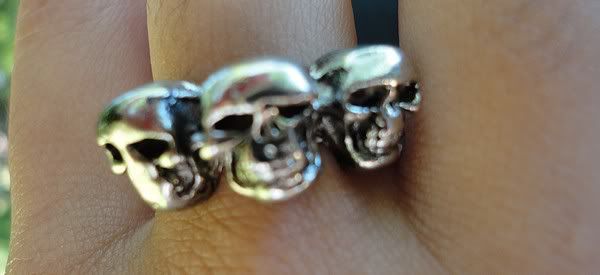 So much jangly bangles, eh? (Pardon me, I've been overusing "eh." Too much South Park.)
I spent the whole day watching Viva La Bam. I say day well spent. Nothing like a little Bam Bam to brighten the evening up with the boo.
And that was my magnificent day. So happy I have a new camera.
Owl necklace: Deb
Peace necklace: Target
Gray dolman top: Selena Gomez's "Dream Out Loud", K-Mart
Purple tunic: American Dream, Deb
Assorted silver bracelets: Gifts and flea markets
Skull ring: From mom
Shoes: American Eagle, Payless
Have a great day!